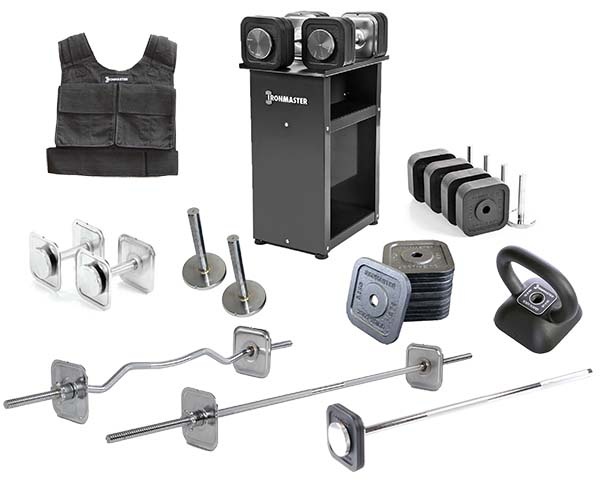 Quick-Lock Weight Plates System
Quick-Lock Weight Plates System
Do you want to take things up a notch and achieve more with your workouts? Ironmaster's innovative Quick-Lock Weight Plates System fits the bill and then some. Read on to learn more about how this do-it-all-in-one fitness system can help you take your strength training to the next level, maximize results, and add some fun to weight lifting. 
What Is the Quick-Lock System?
The Quick-Lock system isn't just a single product. It's a one-of-a-kind workout system centered on a common proprietary plate and locking screw, and exercise equipment. The system is comprised of multiple products, which allows for a more enhanced and complete workout experience. Like the patented plate, the locking screw is a unique screw design that quickly inserts and locks ("Quick-Lock") to hold the weight plates in place. There are three screw lengths that each accommodate a different weight range.
For simplicity, we refer to the 'system' when discussing plates, locking screws, and equipment.
Experience Unmatched Versatility With the Quick-Lock System
It happens to even the most devoted gym-goers. After a while, your fitness routine can become stale. You get bored with your workouts and start going through the motions, which causes your progress to stall and gains to come to a screeching halt.
So, how do you conquer boredom? With versatility. And that's the number one specialty of the Quick-Lock system—providing a convenient and unmatched versatility to working out that keeps you engaged and on track with your goals. The Quick-Lock system allows you to use the very same weight plates across multiple pieces of equipment and Ironmaster accessories, so you can easily switch things up and keep your workouts fresh. 
Did you start a workout with dumbbells but need to switch gears for some kettlebell training? That's not a problem at all with the Quick-Lock system. The same weight plates you use to load up your Ironmaster Adjustable Dumbbells can be easily and quickly transferred to our Adjustable Kettlebell Handle. 
Or let's say you're tired of always using dumbbells for exercises like bicep curls, tricep extensions, or front raises. Your Quick-Lock plates are interchangeable with both the Ironmaster Straight Bar and EZ Curl Bar.
You can add even more new wrinkles to your workouts with mace training (our Mace Handle is also compatible with our Quick-Lock plates), especially if you're looking to:
Build core strength 
Improve shoulder mobility and strength
Improve grip strength
Train in different planes (most people train primarily in the sagittal plane but there are two other planes to worry about—frontal and transverse)
Develop better balance and coordination
Fix muscle and strength imbalances
The set, rep, and complex schemes involved in mace training make for one killer workout!
There's also training with a weight vest, which can ratchet up the intensity of your workouts and bring basic bodyweight movements like push-ups, pull-ups, and squat jumps to a whole new level. 
As you can see from the examples above, the Quick-Lock system can bring versatility to your workouts that's second to none. So instead of getting bored with your workouts, you can continue to challenge yourself, progress, and reach new fitness heights. 
What Else Does the Quick-Lock System Have to Offer?
Outside of the versatility factor, Ironmaster's Quick-Lock Plates System has a ton to offer. 
Saves you money and space 
Rather than have a heap of different weights and plates laying around, or a bunch of different sized kettlebells, you can save a ton of space with the Quick-Lock Plates System. Not only that but there are a ton of cost savings that come into play when you go Quick-Lock, making them a more affordable alternative to fixed weights. 
Durable and superior quality
Quality is super important and it can be a make or break, especially when it comes to fitness equipment. No one wants to buy something that wears and tears, isn't durable, and won't last for the long haul. 
That's not something you have to worry about with Ironmaster and our Quick-Lock Plates System. Every piece of equipment at Ironmaster is built to last. And just as an example, that can't be any more apparent than with our flagship Quick-Lock Adjustable Dumbbells. 
With a thick chrome-plated steel handle for the ultimate, you won't have to worry about the dumbbells slipping out of your hand while you're in the middle of a workout set. And the screws are made of solid heat-treated carbon steel so you can lift with confidence knowing the weight you choose during your lifts will stay in place. 
The Quick-Lock Adjustable Dumbbells also come with a lifetime warranty for personal home use to the original purchaser. 
Pairs perfectly with other Ironmaster equipment and accessories
Pair Ironmaster Quick-Lock products with any one of our state-of-the-art Super Benches, a multi-functional weight bench with 11 lock-out angles so that you can get more out of your workouts. The Super Bench is also suitably compatible with an entire series of customizable attachments and accessories to craft the ultimate, space-efficient home gym.
Those attachments and accessories include:
Bar Dip Handle for Super Bench/PRO
Cable Tower Attachment V2/PRO
Chin Up Bar for Super Bench/PRO
Crunch Situp Att for Super Bench/PRO
Dumbbell Spotting Stand for SB/PRO
Leg Attachment for Super Bench (/PRO)
Preacher Curl Pad for SB/PRO
Wheel Kit - Super Bench (/PRO)
Bench Handle for SB/PRO
Partner workouts have never been easier
Fitness is more fun when you have someone to work out with, right? When you have someone right there next to you, it can make all the difference in the world when it comes to pushing through your workouts. 
Using our Quick-Lock system, you can add some fun to your fitness journey by working out with a partner. Since the Quick-Lock plates are interchangeable, an extra pair of adjustable handles enable you to workout with a buddy and get in shape together.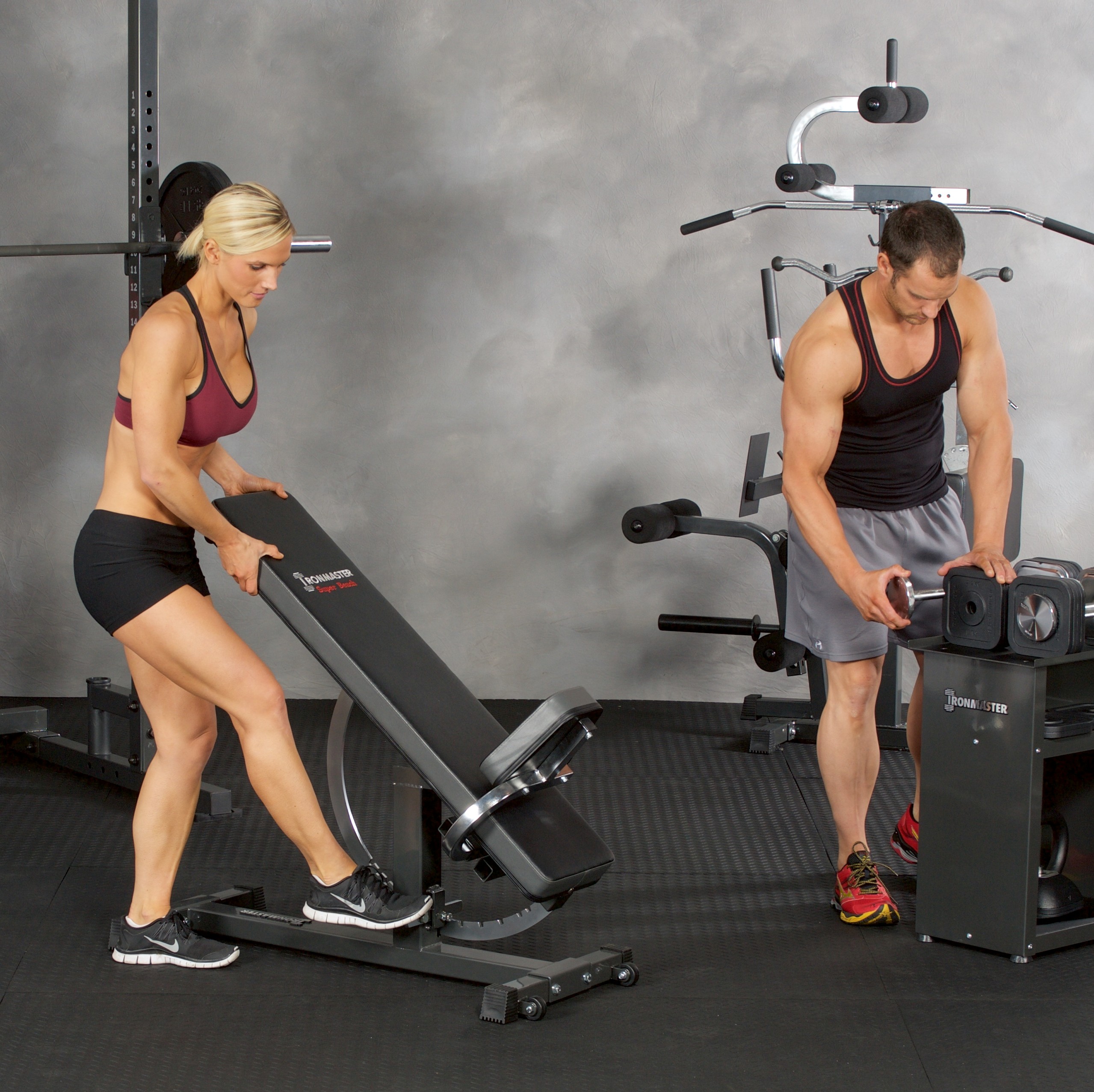 Wrapping Up the Quick-Lock Weight Plates System
Add more versatility to your workouts while saving yourself money and space with the Quick-Lock system. Easily shift across multiple pieces of Ironmaster equipment and accessories using the very same weight plates for each. 
From training with dumbbells, kettlebells, straight bars, and EZ curl bars to mace training and working out with a weighted vest, the world of fitness is at your fingertips with the Ironmaster Quick-Lock Weight Plates System. 
It's time for you to achieve more!